Activities and places to visit near Antibes
Although it is entirely possible to spend a great deal of your time gazing out at the view, there are fantastic places to go, things to do and of course great food and wine to be had.

Places to visit
Vallauris, a world centre for craft pottery, 5 km from Antibes.
Biot (craft town) and the National Fernand Léger Museum (paintings), picturesque popular mediaeval village, 2500 yrs old sits on hilltop, between Antibes and Nice, 7 km away.
Hauts-de-Cagnes, a mediaeval town (frescoes, Renoir Museum), 9 km away.
Cannes (the square, the Castre Museum and Notre-Dame de l'Espérance, the Rue Meynadier and Forville market, La Croisette and its façades, markets and old districts), 12 km away.
Nice (Promenade des Anglais, Church of Gesù, Cours Saleya, and Masséna, Matisse and Chagall Museums), 20 km away.
Vence, an old town on a rocky promontory with the Perfume and Liqueur castle museum, 20 km from Antibes.
St Paul de Vence, hilltop mediaeval village 18km from Antibes.
Grasse, the world centre of perfume and adopted home of Fragonard (perfume museum, perfume factories, the old town, 12th century cathedral and so on), fragrant walks, the gardens of Pégomas. 21km away.
Monaco and Monte Carlo 40 km away.
Eze – A mediaeval village perched like an eagles nest on a narrow rocky peak with spectacular views of the Mediterranean from the Jardin Exotique, 429m above sea level. 36 km from Antibes.
Mougins – pretty little perched mediaeval village with a large collection of gourmet restaurants and art galleries. 12km away.
The Verdon Gorge - The world's second largest gorge, at about 25 kilometers in length and up to 700 meters deep. It was formed by the Verdon River, which is named after its startling turquoise-green colour. 112 km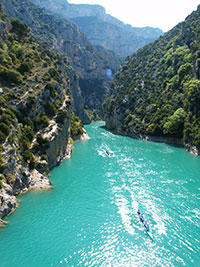 Nearby activities
Winter skiing: 2 major ski stations, Isola 2000 & Auron, less than 2 hours drive away.
A smaller ski station popular in the Nice-Cannes-Grasse area is Gréolières-les-Neiges. At 1450m and only 50km north of Grasse, the ski season is shorter, but it's easy to get to and in a lovely relaxed setting.
Watersports centres: Sailing school / water sports club.
Antibes/Juan-les-Pins Yacht Club
Diving department at the CREPS centre.
Tennis: Municipal Tennis Club, 1/2 km away, 28 courts including 17 clay. Group lessons and courses for all levels.
Golf: four 18-hole golf courses within a radius of 16-30km - Opio Valbonne golf course (18 holes), 20 km away - Saint Donat golf course (18 holes), 16 km away.
Horse-riding: Saint Georges horse-riding centre, on the Route de Roquefort in Villeneuve-Loubet, 10km away.
Swimming: Indoor and outdoor pools ½ km away.
Paragliding: Esterel beach, 3.5 km away.
Marineland: Europe's leading maritime zoo and adventure park with dolphin, sea lion and killer whale shows, marine museum, tropical aquariums (4km away) .
Further reading and useful links